Erik Wøllo

Traces • Images of Light • Solstice (remastered)

Special Remastered Editions

We are currently Sold Out of this signed & numbered 3-CD set.
Click Here to check availability at Amazon.
About Traces • Images of Light • Solstice (remastered)
Tracks:
Three of Erik Wøllo's influential early works are reborn and released anew in this set of special remastered editions.
Originally released between 1985 and 1992, these albums have long been out of print and difficult to find on CD. This set presents all three classic albums, along with eight previously unreleased tracks from the era, all remastered with depth and clarity that far surpass the original releases. Each CD is housed in a dual gatefold vinyl record style jacket, and features elegant, updated artwork based on the original versions.
We've put together 500 of these exclusive three-disc sets. They are wrapped in a black linen paper band which is signed and numbered by Erik Wøllo.
The sets will ship in numerical order, so earlier orders will receive lower numbers.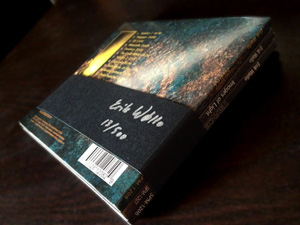 This collection represents a seminal time for Wollo's artistic development; it was during this period that Erik found his distinct musical voice, skillfully defining and perfecting his unmistakeable sound.
'After many years as a professional touring musician, these works were a milestone and a turning point for me. I quit all the bands I was playing in at that time, and set up my own Wintergarden Studio. I wanted to work on my own, like a painter in his studio. '
– Erik Wøllo
---
TRACES
Although he had recorded two earlier solo albums, it was on 1985's Traces that Erik found his signature sound.
'Traces is a very special album to me, ' explains Wollo. 'I felt I really got into something new and I have explored these ideas on several albums since. '
Featuring expansive synth textures, hypnotic sequencer patterns, electric guitars and guitar-synthesizers, Traces was Norway's first electronic music release.   'In 1984-85, MIDI technology was new and groundbreaking, ' Erik recalls, 'and I was one of the first to explore all the new possibilities. Musically this technology opened up a new world, and I have continued to further develop and refine these musical structures over the years. '
'I heard Traces on vinyl back in the early 80s. It is still one of my top 10 albums. There is just an elegant, efficient and emotional quality about it that just holds up like it was created today. A truly timeless piece of beauty. '
– Steve Roach
---
IMAGES OF LIGHT
Images of Light was originally released in Norway in 1989, and then in the USA in 1990.  Expanding on the distinctive electronic style that first appeared on Traces, Wollo delivers adventurous and vibrant compositions performed on guitars and synthesizers.  The true potential of Wollo's shining, consonant chord structures, tender melodic phrasing, and masterful sound design was realized on Images of Light.  Rich, timeless music with texture and melody, highly sculpted and detailed, resulting in a pulsing, vibrant and atmospherically three-dimensional experience.
"Images of Light is a music that is immediately organic without any distractions from it's electronic medium, a true test of a classic. This was the first Wøllo work that I heard and I knew instantly that this was highly tuned, crafted music by an artist that the world needed to know about. Beautifully composed illustrations in form, pulse, and melody that now, re-envisioned, finally present the work at its finest!"
– Howard Givens
---
SOLSTICE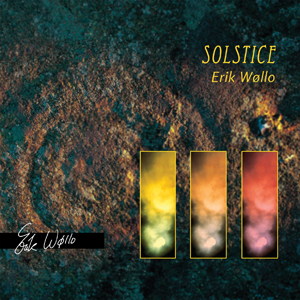 Originally released in 1992, Solstice is an album with a pure, yet sophisticated electronic palette that features Wøllo's cinematic atmospheres at their finest. Melodic beauty adorns a solid rhythmic structure, and a sense of minimalism is present throughout the entire album.  At times, the music incorporates rhythms and elements from around the world, including a remarkable performance by South Indian violin virtuouso L. Subramaniam on the track Northern Lights Alap.
"Solstice is one of my all time favorite discs.  When I first discovered it in the early 90's, I was taken by how fresh and genuine it sounded.  I found it so inspiring that I listened to it almost every single morning for the better part of two years.  I have returned to it often since then, and like any true classic, it is always a satisfying listen that never disappoints."
– Jon Jenkins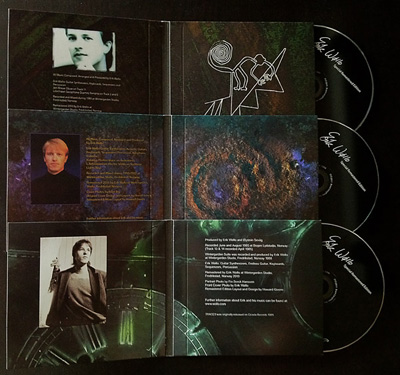 Note: Even though this is a three disc set, it will only count as one item when your shipping charge is calculated.
Reviews
Early work can seem small in the accompanying glare of an artist's latest achievement. This is not at all so for Erik Wøllo. His three albums Traces, Images of Light and Solstice (remastered and reissued including previously unreleased bonus tracks as a three disc set) still sound fresh and modern long after their original release. Having this music once again available will certainly enhance the listening pleasure of Wøllo's international fanbase, but will also be of great interest to those wishing to track his ascent. Traces (1985) has many distinctions, one of which was being the first-ever all-electronic release out of Norway. On this album and later on Images of Light (1990) and Solstice (1992) we hear Wøllo combining the influences of prog-rock, ambient and classical chamber music into a fluid procession of bright sounds, steady rhythms and striking musical phrasing. It was on these three albums that Wøllo perfected the communication of a multitude of emotions in fairly short compositions. He also developed a synthesized allusion to the tribal sound samples and digital grooves soon to change music forever. Listening to these early works we hear many of the foundational rhythms and beats, especially on Traces, were enlisted not from world music samples but created using synthesizers. This, along with his distinctive guitar playing and song arranging, established Wøllo as a significant creative talent; one whose early music has been built upon time and time again by a great number of new grown artists. So many of Wøllo's innovations have found their way into the genre that his music has achieved a kind of timelessness - which is why these three CDs, now well over 20 years old, still sound like new. But more significantly what may also be heard on Traces, Images of Light and Solstice is an artist at the beginning of a meaningful career in music and fully realizing an incredibly polished novice work - a work connected more directly to the creative spirit than what may be achievable by an older and more veteran musician.
- Chuck VanZyl,
Star's End